Handbook
Graduate Handbook
EECS Graduate Handbook
The Department of Electrical Engineering and Computing System (EECS) Graduate Handbook contains the detailed policies and rules pertaining to the departmental graduate programs and supplements the policies of the College of Engineering and Applied Sciences Graduate Office and the policies of the University of Cincinnati Graduate School. All students admitted to EECS can access a copy of this handbook from the EECS graduate program webpages. It is the students responsibility to familiarize themselves with and to conform to these rules and regulations in this handbook. It is recommended that the students retain a copy of this handbook for their personal use throughout their degree program.
These rules have been reviewed by both the College of Engineering Applied Science Graduate Office and the University of Cincinnati Graduate School.
The handbook is regularly updated throughout the year as the Graduate Council makes or revises rules and guidelines. 
The current handbook will always be available on the EECS Graduate Program website.
Questions or Concerns?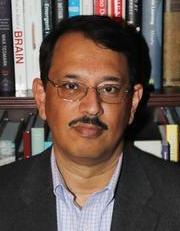 Graduate Program Director
Ali Minai, Professor
828 Rhodes Hall
Office Phone: 513-556-4783
Email: Ali.Minai@uc.edu